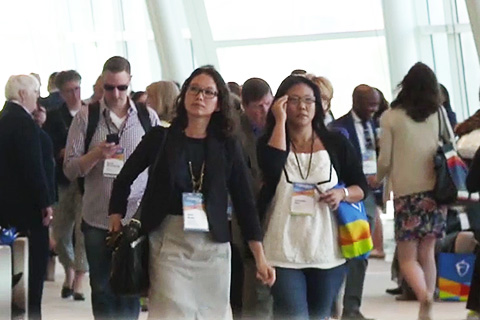 Download Video
Video Transcript: Convening Our Community of Members
Music playing
[Luiz Narváez]
I was really looking forward to hearing from students their perspective on how the policies that we implement have an impact on their college enrollment, persistence, and graduation.
Seeing and hearing first-hand from the students how this impacts their college education has a huge impact in the work that I do.
[José Juan Morales Rodríguez]
Mencionaba — organizamos el Congreso Latinoamericano de College Board, y la verdad es que conocer estas nuevas experiencias también nos dejan mucho — mucha riqueza que podemos implementar también en nuestras áreas, y definitivamente seguir pues, ahora sí que gozando de estas uniones porque definitivamente la educación es una educación, yo lo veo así. Eh, si la economía es global, también la educación tiene que ser global. Y bueno, todos tenemos que apoyarnos en aras de un bien común.
[Kelly Stromberg]
One of the things we've done is tried to work with some of our neighboring universities, colleges, and community colleges and some of those people who are big supporters and members of the College Board, and we've touched on that with regard to the Capstone program and some people who are working as sort of content expert consultants with our students as they're doing their research. So that's just one small way that we've tried to tap into the broad and dynamic membership of the College Board.
[Stephanie Anderson]
I've been very fortunate to have the opportunity to serve on the Southwest Regional Council. Texas just went through a major bill, changing our diploma types. And being able to come in to the committee and talk about the impact on our schools and be able to talk to guidance counselors, but also AP teachers, on how maybe the new diploma types could have an impact on our students in Texas, provides me that forum of partnership and way of collaboration and it creates a community among all three of those organizations, whether it's, you know, our high schools, our guidance counselors, our higher ed, where we can work together towards a common goal.
[End of video]
The College Board Forum is the preeminent annual gathering of K–12 and higher education professionals from all areas of expertise. The Forum offers a wealth of sessions and workshops led by experienced colleagues that focus on finding solutions to today's most pressing education issues.
Why Attend College Board Forum 2015?
To build or strengthen relationships with colleagues
To share best practices and new ideas that benefit today's students
To hear about new education policies and legislation
To learn what the College Board can do for you
To make your voice heard
Who Will Be at College Board Forum 2015?
Teachers
School counselors
College admission and outreach coordinators
Financial aid administrators
K–12 and higher education administrators
Legislators and policymakers
Parent engagement coordinators